MEDICAL SKIN PEELS
Introduction | General Information
Medical-Grade Chemical Skin Peels
The chemical skin peels we offer are not available in the high street and should not be confused with very mild and gentle glycolic peels available from beauty therapists.
We offer several different medical-grade chemical skin peels and these go beyond removing dead skin and work to refresh  the skin by remodeling live skin.
---
Types of skin peels
Superficial Peel
SUPERFICIAL Peel – This chemical skin peel is safe, mild, and an economical way to reverse the signs of ageing. It provides instant rejuvenation by eliminating the effects of ageing, sun damage, and other skin conditions. SUPERFICIAL Peel effectively exfoliates the uppermost damaged skin layers, leaving your skin looking smoother, tighter, and radiant, even after just one treatment.
This peel is ideal before a special occasion when carried out at least 5 days in advance, as a 'pick me up' treatment and can also used as a maintenance treatment after our Advanced Medium-Grade Peel.
Medium-depth Peel
Advanced Medium-Depth Peel – a medium-depth peel, targeting surface wrinkles, pigmentations, sun spots and blemishes.
Deep Peel
Phenol Peels – are the deepest type of chemical skin peel. They penetrate the skin deeper than AHA or TCA peels to address more serious imperfections such as blotchiness, severely sun damaged skin, coarse wrinkles and acne scars. Compared to superficial and medium-depth peels, deep chemical peels have more dramatic results, and only a single treatment is required.
As this is a deep peel there will be some downtime and it may be necessary to take 1-2 weeks off work during the peeling phase.
---
What does a medical-grade chemical peel do?
Medical-grade skin peels reduce the acidity of the skin surface using a combination of acids to break the connections between cells. This causes the uppermost layer to peel away revealing the healthy normal skin below.
Recent advances in formulations have produced powerful acid combinations but with minimal downtime. This results in exfoliation of the surface layer while simultaneously stimulating skin plumping in the deeper layers. This is far superior to any facials or dermabrasion available in salons.
---
Advantages of medical-grade skin peels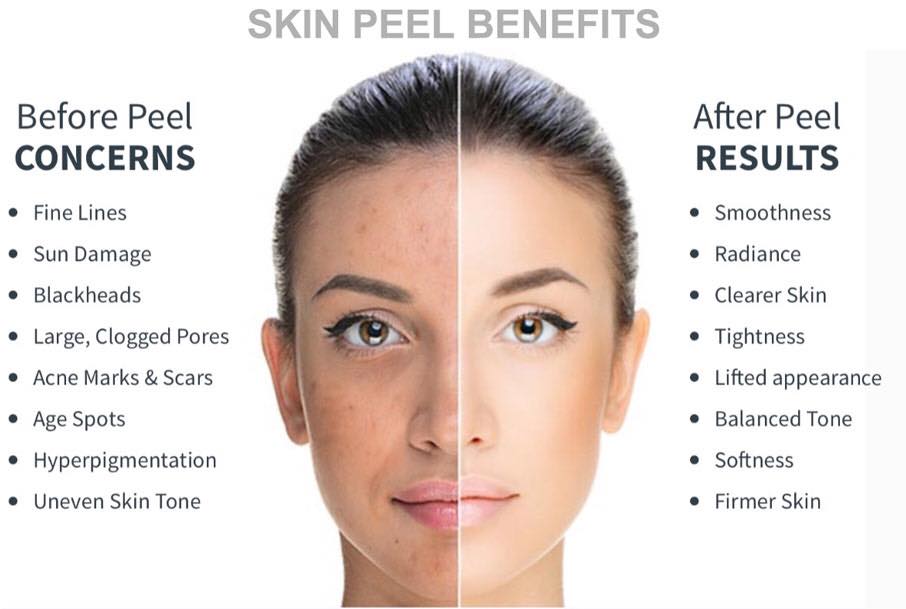 Firstly, the advantage of medical-grade skin peels is that the doctor is always in control, observing the skin very carefully for expected changes and unwanted effects. In the more advanced peels, the patient's tolerability is assessed, and appropriate action is taken.
Secondly, the exfoliation effects achieved in these professional treatments can accelerate home treatments by 2 weeks thereby getting you to your optimal results sooner.
Thirdly, medical skin peels can target multiple problems with one treatment (see below)
---
Should you have a one-off treatment or a course of treatment?
Having regular medical skin peels at specific intervals augment benefits of home treatment. The interval is determined by the condition being treated.
By having light-medium depth peels regularly you can achieve safe, progressive results which are long-lasting.
---
Why consider a medical skin peel at Essence Medical Cosmetic Clinic?
Both your consultation and treatment are carried out personally by our resident doctor, Dr Kieren Bong, who is widely renowned as one of Europe's top cosmetic doctors. Dr Bong is also one of the only small handful of doctors in the UK who offers the deep Phenol Peel.
Apart from having patients all over the United Kingdom and Europe, Dr Bong has had the privilege of working on some of the most famous stars on television, sports stars from a range of sporting events, TV presenters, West-End performers and notably, former contestants of Miss Universe and Miss World beauty pageants.
Dr Bong has worldwide appeal and has travelled extensively in Asia, Middle-East, Europe and Australasia performing life-changing non-surgical facial aesthetic treatments
Dr Bong is one of Europe's top cosmetic doctors. He has trained some well-known doctors who now treat many world famous celebrities
Dr Bong is a well recognised expert cosmetic doctor for celebrities, soap stars, TV presenters, West-end performers, footballers wives and many more
Dr Bong prides himself in his innovative approach to advanced non-surgical facial treatments, and is well known for his unique methods of achieving beautiful yet natural results with minimal pain and downtime